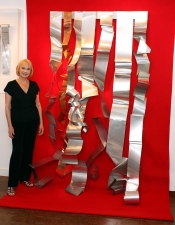 Basha Ruth Nelson
My work is highly intuitive. Whether sculpture, construction or installation, my hallmark is the creation of unity between form and the volume in which my pieces live. My sculptures and constructions in stainless steel, aluminium or copper engage the viewer through surface and scale.
A passion for the vertical shapes my primary artistic direction. The roots of this commitment lie deep since much of my education and experience has the background of New York City's skyscrapers. Now I continue to explore this premise at a deeper level. For me, the vertical transcends the material world, flows with grace and dignity, and is one of the simplest, most elegant, and strongest forms in nature.
As in life, it is always the dichotomy that intrigues me. I seek to express that in my work: soft/hard, simple/complex, shadow/light, still/movement.
When working with aluminum and copper I work directly with the material, cutting and forming it by hand. The artwork then contrasts the strength of metal and the softness of the human touch.
I've exhibited widely in the United States and abroad and most recently was invited to give a presentation about my artwork at The Museum of Contemporary Art in North Miami, FL. My Master of Arts degree comes from New York University